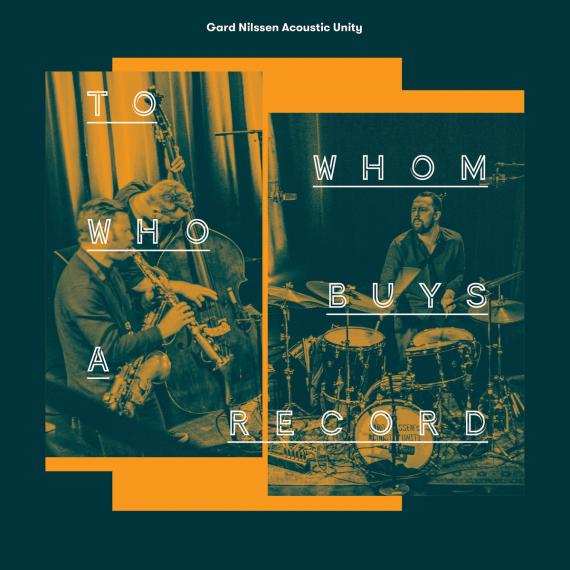 Gard Nilssen Acoustic Unity "To Whom Who Buys a Record"
This July, Gard Nilssen is Artist-in-Residence at the prestigious, future-facing Molde Jazz Festival. It will be a busy week for the Norwegian drummer, composer and sonic adventurer. As well as guest appearances, he will perform with several of his bands - SpaceMonkey, an electronica/dance music mash-up he co-founded five years ago; Bushman's Revenge, which may be the missing link between Albert Ayler and Black Sabbath and which he co-founded in 2003; the more recently formed Amgala Temple, which draws comparisons with the out-there sounds of Jimi Hendrix, Frank Zappa and electric-era Miles Davis; and Supersonic Orchestra, a barely tamed beast, specially assembled by Nilssen for Molde, which features three drummers, three double-bass players and a ten-piece horn section. 

All these bands display a complete and admirable disregard for categorization and the jazz police. They are unfettered, high-voltage, transgressive, experimentalist affairs. They are high on dissonance, decibels and passion. They scramble synapses. 

The same can be said of Acoustic Unity, an unplugged trio with which Nilssen will also be performing at Molde (augmented for the occasion by the American trumpeter Ambrose Akinmusire). Nilssen formed Acoustic Unity in 2014 with bassist Petter Eldh and saxophonist André Roligheten. The group has already released two internationally acclaimed albums, Firehouse and Live In Europe. Its latest, To Whom Who Buys A Record, is a stone-cold certainty for the best-of-2019 lists. 

The quality which above all makes To Whom Who Buys A Record so special is the intensity of interaction between the musicians. The individual performances are exalted enough but group interplay means To Whom Who Buys A Record is far greater than the sum of its parts. In this respect, the album evokes an earlier drums, saxophone and bass masterpiece, Albert Ayler's Spiritual Unity, which even at its most Dionysian was the work of three musicians flying in microscopically close, in-the-moment formation. Spiritual Unity is one of the hardest acts in jazz to follow. 

Remarkably, Acoustic Unity pulls it off. To Whom Who Buys A Record moves between the exuberant and the reflective, the raucous and the mellifluous, the rugged and the delicate. It works equally well as a cognitive or visceral experience. Wherever it alights on the spectrum, it is balm for the soul. 

"It feels like a perfect set-up now," says Nilssen of the group. "Firehouse was our first meeting as a band. Four years have passed since then and we've played over a hundred gigs all over the world. We have kept the same loose approach but the interplay is deeper now. It takes the music to a different level. We recorded the new album in one room without amplification. In every sense it was up close and personal. 

"It's about dynamics. With an acoustic lineup you can exploit the whole range of sounds and textures the instruments offer. You can peel back the nuances. Andrè and Petter know how to do that. They are always exploring new ways to play their instruments. They are totally inspiring. They make me a better musician every time we play together." 

Historically, drummers have been the leaders of a surprisingly small proportion of era-defining bands. Prominent among the few are swing's Chick Webb, hard bop's Art Blakey and fusion's Tony Williams. Yet jazz is nothing without rhythm. 

Nilssen agrees that this is strange. "For me, rhythm always comes first," he says. "But drummers are still often regarded as accompanists and timekeepers rather than leaders and soloists. That is changing though. The traditional jazz-lineup has become more inclusive, there is more collective interplay. Back in the day the standard set-up was a soloist backed by a bass and drums rhythm section." 

When he was developing, Nilssen listened to a lot of drummers, but not to the exclusion of other players. "Tony Williams, Elvin Jones, Paul Motian, Max Roach, Roy Haynes, Ed Blackwell, Jack DeJohnette, Audun Kleive and Jon Christensen gave me a big kick," says Nilssen. "But I was listening to other musicians too. Miles Davis, John Coltrane, Alice Coltrane, Wayne Shorter, Keith Jarrett, Paul Bley, Don Cherry, Ornette Coleman, Albert Ayler, Bill Frisell, The Beatles, Joni Mitchell, Eric Satie, Jimi Hendrix and The Police were my biggest inspirations. Nowadays my heroes are Susanne Sundfør and Eirik Hegdal and Christian Wallumrød. Fantastic artists." 

In conclusion, it is worth noting the significance of the title To Whom Who Buys A Record. It is a variation of the Ornette Coleman album title To Whom Who Keeps A Record. 

"It's no secret that we have a big love for Ornette's music," says Nilssen. "But that's not why I'm alluding to that title. It's about supporting musicians by buying their records rather than downloading them for free or next to nothing. I don't want to sound like a grumpy old git, but I'm a big critic of the current streaming model. It's not good for musicians - or listeners. If musicians can't make a living, there will be less music around. Streaming is here to stay and it has definite possibilities, but the business model is destructive." 

It is certain that Coleman, who knew his worth as well as any musician, and who in his mature decades did not get out of bed for anything other than an eye-wateringly high price, would agree. If 2019's streaming model is an existential threat to modern masterpieces such as To Whom Who Buys A Record, it is time to change it.  


André Roligheten: saxophones, bass clarinet 
Petter Eldh: doublebass 
Gard Nilssen: drums
Recorded in Amper Tone studio February 2019 by Johnny Skalleberg and Bård Ingebrigtsen.
Mixed by Ingar Hunskaar
Mastered by Fridtjof Lindemann
Released by Odin Records
Produced by Gard Nilssen