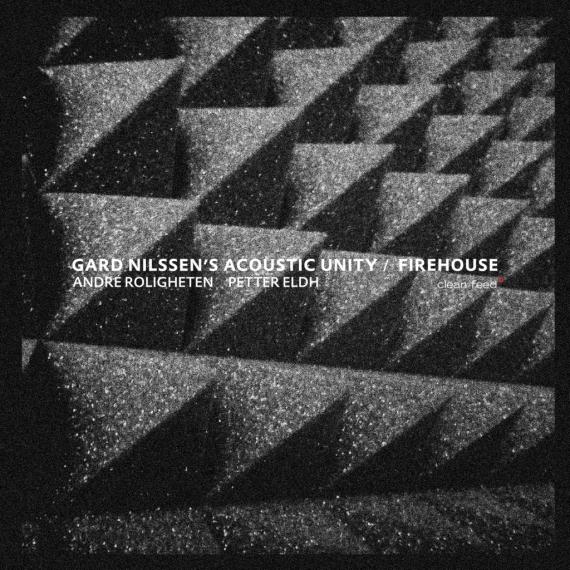 Gard Nilssen´s Acoustic Unity "Firehouse"
André Roligheten saxophones / Petter Eldh double bass / Gard Nilssen drums
1. When pigs fly (Roligheten) / 2. Roundtrip (Nilssen) / 3. Adam ́s Ale (Roligheten)
4. Salad days (Roligheten) / 5. Mojo (Nilssen) / 6. The Resistance (Eldh) / 7. Turtlehead (Roligheten) 8. Life, somewhere before the exit signs (Nilssen, Roligheten, Eldh)
Recorded June 14th 2014 by Marcus Bror Forsgren, in Engfeldt/Forsgren studio, Oslo, Norway
Mixed by Ingar Hunskaar, January 2015 / Mastered by Fridtjof A. Lindeman at Strype Audio, March 16th 2015 / Produced by Nilssen, Roligheten and Eldh / Executive production by Pedro Costa for Trem Azul
Design by Travassos / www.gardnilssen.com
If you ask the names of the most prominent and sought after jazz- and improvised music drummers in Norway, you can be sure to find Gard Nilssen on that list. Anywhere you turn, he's there, either as a sideman (Team Hegdal, Cortex, Lord Kelvin, Zanussi 5 or Susanne Sundfør) or leading and co-leading a good number of acclaimed groups (Bushman's Revenge, Puma, sPacemoNkey or Astro Sonic), some going to the absolute frontier territories of jazz, rock and electric experimentalism. With "Firehouse", he debuts a new trio entirely committed to unplugged music; Gard Nilssen ́s Acoustic Unity.
In the frontline is an astonishing revelation of a saxophone player, André Roligheten. Whether as half of the duo Albatrosh, or in the tighter context of the Trondheim Jazz Orchestra, collaborating with the psych-rock band Motorpsycho, or in free communication with the likes of Axel Dörner, John Edwards and Paal Nilssen-Love, every player would envy his drive and capacity to instantaneously re-invent melody and rhythm while improvising.
Petter Eldh, Berlin based bassplayer, known for his work with the Django Bates trio, Lillinger/Slavin/Eldh trio, Peter Evans and Tobias Delius among others, is another idiosyncratic figure, perfect for the cause; claiming references as diverse as Dr. Dre, Charlie Parker and Peter Brötzmann, he's definitely the right choice for maintaining the backbone of these tunes and at the same time always being ready to cross the winds.