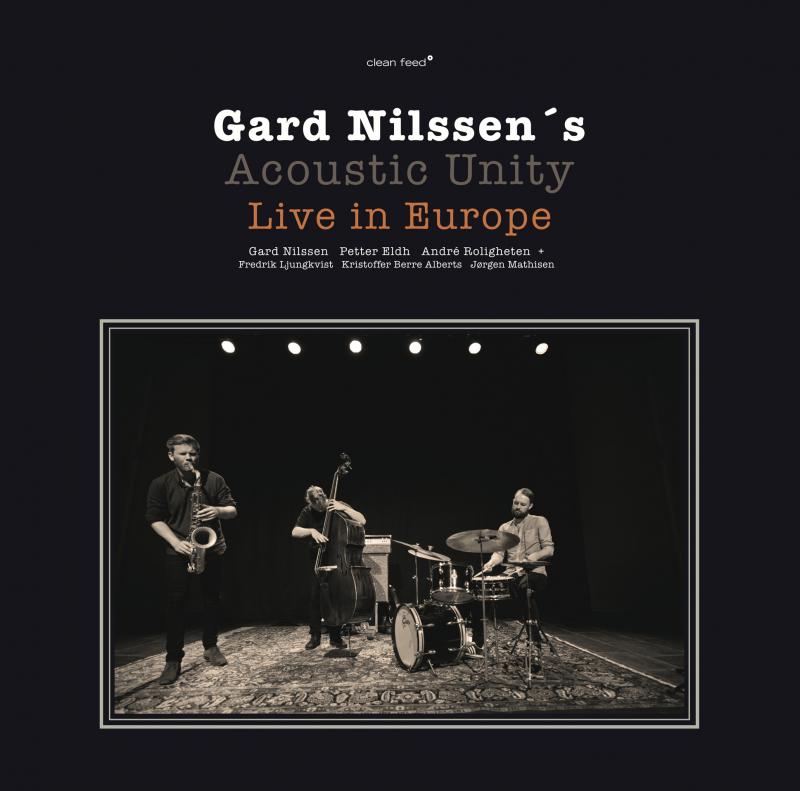 The 3x livealbum "Live in Europe" IS OUT NOW!!!!!
i am so proud to finally release my triple live record "Live in Europe" on both physical format and on all digital platforms.
The beautiful vinyl box edition comes with a beautifully gatefold cover including cd´s as well, and lots of nice pictures and liner notes from Peter Margasak.
The vinyl box is fashionably late this time, but you can pre-order it from me or my great label Clean-Feed Records in Lisbon, Portugal.
Shipping for free to the 50 first customers:)
If you ask the names of the most prominent and sought after jazz- and improvised music drummers in Norway, you can be sure to find Gard Nilssen on that list. Anywhere you turn, he's there, either as a sideman (Team Hegdal, Cortex, Lord Kelvin, Trondheim Jazz Orchestra or Susanne Sundfør) or leading and co-leading a good number of acclaimed groups (Bushman's Revenge, Puma, sPacemoNkey or Astro Sonic), some going to the absolute frontier territories of jazz, rock and electric experimentalism. With the triple liverelease "Live In Europe" he continues his work entirely committed to unplugged music; Gard Nilssen ́s Acoustic Unity.
Since the Grammy nominated and critically acclaimed debut album "Firehouse" in 2015, they have been touring all around the world: Japan, USA, Canada, Portugal, Germany, Austria, Holland, UK, Denmark, Slovenia and Norway, and developed a more personal and distinct expression with telepathic interplay, big ears, impulsive and energetic sound.
In the frontline is an astonishing revelation of a saxophone player, André Roligheten. Whether in his own band Roligheten, as a half of the duo Albatrosh, in the tighter context of the Trondheim Jazz Orchestra, collaborating with the psych-rock band Motorpsycho, or in other great acts like Team Hegdal, Friends & Neighbors and Cambien Trio, every player would envy his drive and capacity to instantaneously re-invent melody and rhythm while improvising.
Petter Eldh, Berlin based bassplayer, known for his work with the Django Bates trio, Amok Amor, Speak Low, Peter Evans, Jim Black and Tobias Delius among others, is another idiosyncratic figure, perfect for the cause; claiming references as diverse as Dr. Dre, Charlie Parker and Peter Brötzmann, he's definitely the right choice for maintaining the backbone of these tunes and at the same time always being ready to cross the winds.
"Live In Europe" is a triple live vinyl and cd box release, featuring the saxophonists Fredrik Ljungkvist (Atomic), Kristoffer Alberts (Cortex) and Jørgen Mathisen (Krokofant), out on clean-feed records now.
Here is the credits as well:
Gard Nilssen- drums
Petter Eldh- double bass
André Roligheten- tenor & soprano saxophones
Feat:
Fredrik Ljungkvist- tenor saxophone & clarinet (side C & D) (or disc 2)
Kristoffer Berre Alberts- alto,tenor & barytone saxophones (side E & F) (or disc 3)
Jørgen Mathisen- tenor saxophone & clarinet (side E & F) (or disc 3)
Side A/ CD 1
When Pigs Fly (Roligheten)
Hymne (Nilssen)
Roundtrip (Nilssen)
Mormor (Nilssen)
Side B/ CD 1
Rushen (Eldh)
Gammal Rottegift (Nilssen)
Jack (Nilssen/Roligheten)
Zig Zag (Roligheten)
Side C/ CD 2
Summer Ale (Roligheten)
Rushen (Eldh)
Gammal Rottegift (Nilssen)
Side D/ CD 2
Hymne (Nilssen)
Roundtrip (Nilssen)
Zig Zag (Roligheten)
Salad Days (Roligheten)
Side E/ CD 3
Hymne (Nilssen)
Roundtrip (Nilssen)
Mormor (Nilssen)
Side F/ CD 3
When Pigs Fly (Roligheten)
Utleiemegleren (Roligheten)
Zig Zag (Roligheten)
Adam's Ale (Roligheten)
Recorded live in concert.
Side A & B recorded at North Sea Jazz Festival 8th of July 2016 by Alex Fiennes
Side C & D recorded at Ljubljana Jazz Festival 2nd of July 2016 by Luís Delgado
Side E & F recorded at Oslo Jazz Festival 18th of August 2016 by David Solheim
Mixed by Ingar Hunskaar, January-February 2017
Mastered by Fridtjof Lindemann, March 2017
Produced by Gard Nilssen and André Roligheten
Photos by Petra Cvelbar, Tore Sætre, Eddy Westveer, Ketil Hardy & Gard Nilssen
Coverdesign by Travassos
Gard plays Istanbul Mehmet cymbals
Thank you: Fredrik Ljungkvist, Jørgen Mathisen, Kristoffer Berre Alberts, Ingar Hunskaar, Fridtjof Lindemann, Alex Fiennes, Luís Delgado, David Solheim, Jurjen Mooiweer, Mike Bindraban, Rune Nergaard, Ola Høyer, Ole Morten Vågan, Edvard Askeland, Michelle Kuypers, Bogdan Benigar, Ketil Hardy, Tore Sætre, Petra Cvelbar, Eddy Westveer, The Istanbul Mehmet family, friends & family.
Special thanks: André Roligheten, Petter Eldh , Pedro Costa & Kathrine Lygren Toppe.
www.gardnilssen.com
gardnilssen@gmail.com
p.s.- If you want to listen to the music first, before buying it, then I have decided to be so gentle and put out this link to a digital streaming service which name won´t be mentioned:
https://open.spotify.com/album/6BOHatrZpJPQXc0yBclZtq?si=jBHhKbLZRxaS0Z0...
All the best, Gard