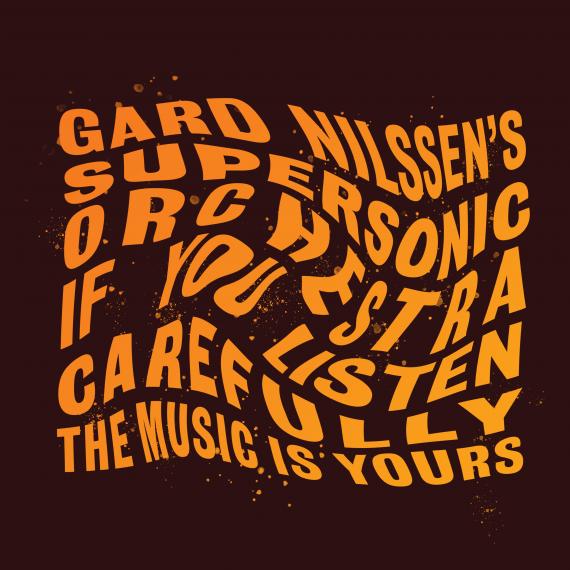 Gard Nilssen´s Supersonic Orchestra "If you listen carefully, the music is yours"
Out now on Odin Records!
Håkon Mjåset Johansen- drums (NO)
Hans Hulbækmo- drums (NO)
Gard Nilssen-drums (NO)
Petter Eldh- doublebass (SE)
Ole Morten Vågan- doublebass (NO)
Ingebrigt Håker Flaten- doublebass (NO)
Eirik Hegdal-saxophones (NO)
Per "Texas" Johansson- saxophones (SE)
Kjetil Møster- saxophones (NO)
Hanna Paulsberg- saxophone (NO)
Mette Rasmussen- saxophone (DK)
Maciej Obara- saxophone (PL)
André Roligheten-saxophones (NO)
Thomas Johansson-trumpet (NO)
Goran Kajfes-trumpet (SE)
Erik Johannessen- trombone (NO)
All music composed and arranged by André Roligheten and Gard Nilssen

Produced by Gard Nilssen

Recorded live by Tor Breivik at Teatret Vårt, Molde International Jazz Festival 19th of July 2019

Mixed and mastered by Bård Ingebrigtsen at Amper Tone, Oslo, October 2019

Photos by Harald Opheim

Artwork by Nick Alexander

Special thanks to: Hans Olav Solli for making this happen and to André Roligheten, Eirik Hegdal, Ole Morten Vågan, Thomas Johansson, Petter Eldh, Kjetil Møster and Even Hermansen for lending me your ears.

A million thanks to all the musicians for extraordinary musicianship, playing and dedication! 

Thanks: 
Tor Breivik, Bård Ingebrigtsen, Harald Opheim, Johnny Skalleberg, Nick Alexander, Andreas Meland, Therese Østby Haugen, Cecilie Nogva, Sigurd Ytre-Arne, Ingrid Skanke Høsøien, my dear Kathrine & Ludvig, friends & family.